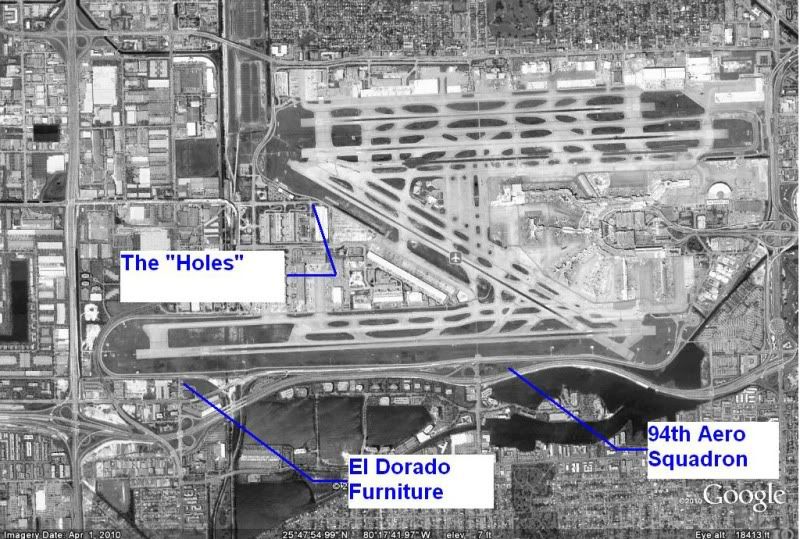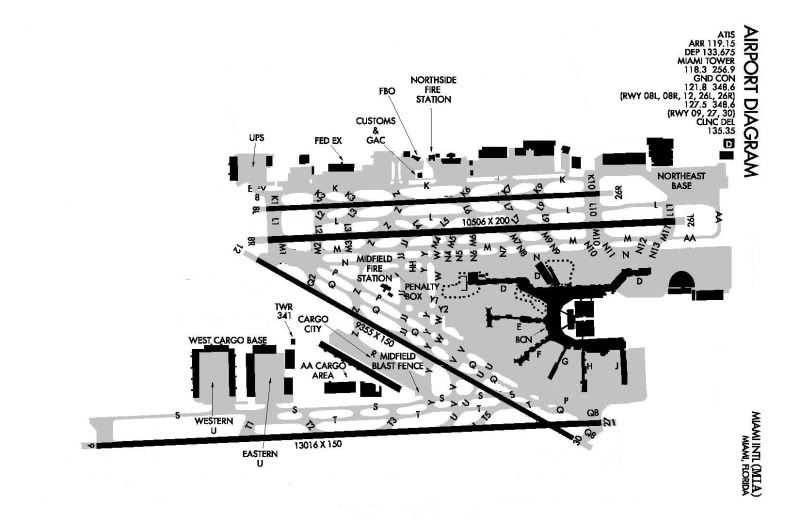 Tower Frequency:
118.30
ATIS Frequency:
119.15
There is one "official" spotting location, and a few other "accepted" locations.
The "Official" location is the "Holes," named for the holes cut in the fence just south of the arrival end of runway 12. The parking can be sketchy as there are "No Parking" signs, although I have never seen them enforced. From here you can get arrivals and departures on runways 26L/R and 12. In the afternoons the heat haze can be a bear. There are no facilities nearby. The closest convenience store to buy water, chips, sodas, is either on Curtiss Parkway and NW 36 ST, or on NW 74 AVE and NW 36 ST.
An "Accepted" Location is at El Dorado Furniture. This works out to NW 72 AVE and about 13 Street. The furniture showroom keeps their lot chained off, but access to it can be gained by using the first entrance. You can use ladders here, so long as you do not leave them propped up. There is also a large rock that will let you get a shot of departing traffic on runway 09 without getting the fence in it. A drawback is sometimes the Florida East Coast Railroad will leave rail cars parked on the tracks obscuring the view.
I have seen Florida Highway Patrol cars there, so they probably don't mind. Sometimes I have had the Miami-Dade Police ask for ID, and that was that. Facilities can be found a block to the south at the gas station. It has a convenience store and rest rooms.
The other "Accepted" location is the parking lot of the 94th Aero Squadron. This is more of a spotting location than photography, as the distance from the fence means the fence will be a part of your picture. Lots of families come here to watch the comings and goings of commercial traffic. If you happen to dine in the restaurant, they have large picture windows to watch the action and even headphones tuned to the tower. The food is good, but it isn't inexpensive.
Feel free to add your comments.
And let's get one thing straight. There's a big difference between a pilot and an aviator. One is a technician; the other is an artist in love with flight. — E. B. Jeppesen